[wwp_vc_breadcrumbs_dynamic show_home="1″ show_parent="1″ show_child="0″ theme="0″][mpc_divider align="left" content_border_css="border-color:#1f7fe0;" lines_style="dotted" lines_color="#1f7fe0″][vc_empty_space height="40px"]
Swimming pool Fair – Barcelona 2019
[vc_empty_space height="15px"][mpc_divider width="29″ align="left" content_border_css="border-color:#1f7fe0;" lines_color="#1f7fe0″ lines_weight="7″ animation_in_type="transition.slideLeftBigIn" animation_in_offset="100″ animation_in_duration="800″ animation_in_delay="500″][vc_empty_space height="15px"]
SYCLOPE Electronique will be pleased to welcome you from 15 to 18 October 2019 on its stand B331 – hall 2, during the next Piscina & Wellness Swimming Pool Show in Barcelona.
[vc_empty_space height="20px"][vc_single_image image="8265″ img_size="full" alignment="center" style="vc_box_shadow_border" onclick="custom_link" img_link_target="_blank" link="http://www.piscinawellness.com/en/home"][vc_empty_space height="60px"]
International exhibition dedicated to swimming pools and well-being
[vc_empty_space height="20px"]
The Barcelona Swimming Pool Show will take place from 15 to 18 October 2019. This international swimming pool show will be an opportunity for manufacturers,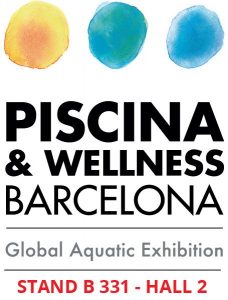 installers and retailers to meet and discuss the evolution of the sector. They will also be able to offer visitors the latest solutions and innovations specially developed for the world of swimming pools and wellness.
This 2019 edition promises to be a promising one with at least 10% more exhibitors. At the last exhibition in 2017, more than 350 exhibitors, 2200 products and 130 new products were presented.
Good business prospects for the companies and visitors present, which will be grouped in 2 halls. The Piscina & Wellness Barcelona exhibition will also offer various seminars, showrooms, demonstrations and visits…
[vc_empty_space height="20px"]
[vc_empty_space height="20px"]
An optimal water quality is that SYCLOPE offers you
[vc_empty_space height="20px"]
For SYCLOPE, this exhibition will be an opportunity to present its solutions for water treatment. A wide range of products responding to the following issues:
[vc_empty_space height="20px"]
[mpc_accordion preset="mpc_preset_2″ auto_indent="" opened="1″ title_font_color="#333333″ title_font_size="16″ title_font_transform="uppercase" title_font_align="left" title_background_color="#f5f5f5″ title_padding_divider="true" title_padding_css="padding-top:7px;padding-right:10px;padding-bottom:7px;padding-left:10px;" title_margin_divider="true" title_margin_css="margin-top:10px;margin-right:0px;margin-bottom:0px;margin-left:0px;" hover_title_color="#ffffff" hover_title_background_color="#1f7fe0″ content_font_align="left" content_padding_divider="true" content_padding_css="padding-top:0px;padding-right:0px;padding-bottom:0px;padding-left:0px;" content_margin_divider="true" content_margin_css="margin-top:20px;margin-right:30px;margin-bottom:30px;margin-left:20px;" margin_divider="true" margin_css="margin-top:0px;margin-right:0px;margin-bottom:0px;margin-left:0px;" mpc_icon__transition="fade" mpc_icon__icon="eti eti_arrow_carrot-right_alt" mpc_icon__icon_color="#1f7fe0″ mpc_icon__icon_size="20″ mpc_icon__background_color="#f5f5f5″ mpc_icon__padding_css="padding:10px;" mpc_icon__hover_icon="eti eti_arrow_carrot-right_alt2″ mpc_icon__hover_icon_color="#ffffff" mpc_icon__hover_background_color="#4c96e0″][mpc_accordion_tab title="How to treat water in public, collective and spa pools?"]
[mpc_callout preset="mpc_preset_53″ layout="style_3″ title_font_color="#1f7fe0″ title_font_size="25″ title_font_line_height="1″ title_font_transform="none" title_font_align="center" title="Public and collective swimming pools" title_margin_divider="true" title_margin_css="margin-top:18px;margin-bottom:13px;" content_width="100″ content_font_color="#888888″ content_font_size="13″ content_font_line_height="1.4″ content_font_transform="none" content_font_align="center" content_margin_divider="true" icon_type="image" icon_image_size="full" icon_image="7253″ icon_border_divider="true" icon_border_css="border-top:3px;border-right:3px;border-bottom:3px;border-left:3px;border-color:#cfd1d0;" icon_padding_divider="true" background_color="#f9f9f9″ padding_divider="true" padding_css="padding-top:35px;padding-right:20px;padding-bottom:20px;padding-left:20px;" mpc_button__url="url:https%3A%2F%2Fwww.syclope.fr%2Fen%2Fapplications%2Fswimming-pools%2Faquatic-center%2F||target:%20_blank|" mpc_button__font_color="#ffffff" mpc_button__font_size="17″ mpc_button__font_line_height="1″ mpc_button__font_transform="none" mpc_button__title="Discover now" mpc_button__background_color="#1f7fe0″ mpc_button__border_css="border-width:2px;border-color:#3a8de0;border-style:solid;border-radius:2px;" mpc_button__padding_divider="true" mpc_button__padding_css="padding-top:9px;padding-right:45px;padding-bottom:9px;padding-left:45px;" mpc_button__margin_divider="true" mpc_button__margin_css="margin-top:8px;" mpc_button__hover_font_color="#ffffff" mpc_button__hover_background_color="#1f7fe0″ mpc_button__hover_border_css="border-width:2px;border-color:#3a8de0;border-style:solid;border-radius:2px;"]Water quality management: analyses, regulations, dosing, salt electrolysis, ultrafiltration…[/mpc_callout]
[mpc_callout preset="mpc_preset_53″ layout="style_3″ title_font_color="#1f7fe0″ title_font_size="25″ title_font_line_height="1″ title_font_transform="none" title_font_align="center" title="Private swimming pools" title_margin_divider="true" title_margin_css="margin-top:18px;margin-bottom:13px;" content_width="100″ content_font_color="#888888″ content_font_size="13″ content_font_line_height="1.4″ content_font_transform="none" content_font_align="center" content_margin_divider="true" icon_type="image" icon_image_size="full" icon_image="7264″ icon_border_divider="true" icon_border_css="border-top:3px;border-right:3px;border-bottom:3px;border-left:3px;border-color:#cfd1d0;" icon_padding_divider="true" background_color="#f9f9f9″ padding_divider="true" padding_css="padding-top:35px;padding-right:20px;padding-bottom:20px;padding-left:20px;" mpc_button__url="url:https%3A%2F%2Fwww.syclope.fr%2Fen%2Fapplications%2Fswimming-pools%2Fprivate-swimming-pools%2F||target:%20_blank|" mpc_button__font_color="#ffffff" mpc_button__font_size="17″ mpc_button__font_line_height="1″ mpc_button__font_transform="none" mpc_button__title="Discover now" mpc_button__background_color="#1f7fe0″ mpc_button__border_css="border-width:2px;border-color:#3a8de0;border-style:solid;border-radius:2px;" mpc_button__padding_divider="true" mpc_button__padding_css="padding-top:9px;padding-right:45px;padding-bottom:9px;padding-left:45px;" mpc_button__margin_divider="true" mpc_button__margin_css="margin-top:8px;" mpc_button__hover_font_color="#ffffff" mpc_button__hover_background_color="#1f7fe0″ mpc_button__hover_border_css="border-width:2px;border-color:#3a8de0;border-style:solid;border-radius:2px;"]Water quality control and remote management for a connected pool[/mpc_callout]
[vc_empty_space height="40px"][mpc_divider lines_style="dotted" lines_color="#1f7fe0″][vc_empty_space]
[vc_empty_space]