TEREO Touch becomes TEREO Touch XL for more efficiency and practicality
The TEREO Touch XL control box measures, regulates and controls pH and chlorine in public and commercial swimming pools (hotels, campsites, spas, thalassos) for optimal water quality. Their new ergonomics allow an intuitive and simplified handling.
Measured parameters :

How to properly control and treat the water in public swimming pools?
The new TEREOTouchXL generation offers SINGLE-BASIN and MULTI-PARAMETER pool management in an extremely simple and effective way.
Temperature + pH + Chlorine
Temperature + pH + Bromine
Bromine BCDMH or seawater with copper/platinum probe
Measurement without temperature control
You make life easier!
This is what the new TEREO Touch XL controller offers
In order to meet your expectations in terms of water quality control in your pools, the TEREO Touch range has evolved into the TEREO Touch XL range. This new pH and chlorine control equipment offers high measurement reliability for public swimming pools, hotels, campsites, spas and thalassos (special seawater probe).
The TEREO Touch XL range regulates chlorine or bromine, pH and also offers a temperature reading.
How can this new equipment make your life easier?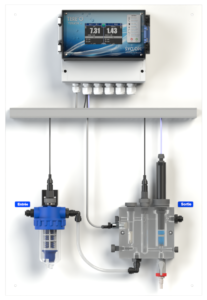 Because you need responsiveness! The TEREO Touch XL range with its larger touch screen allows you to see at a glance, the different states of the controlled parameters. Features that are easy to configure as when you use your own Smartphone. This new version allows by the dry contact control that the dosing devices can be self-powered by the 230 V power outputs of the controller.
Remote monitoring
It is also possible to make it communicable for remote, real-time monitoring of pool water quality.
You wish to control the quality of sea water?
The new TEREO Touch XL range is equipped with a special seawater probe. This solution allows to control the water quality in the same way as a water treated with chlorine.
For more information, contact us
PLUS FOR YOUR USE
The TEREO TouchXL offers many advantages and is very easy to use
Municipal swimming pool
Collective swimming pool
Camping
Hotel
Thalassos
Spas
…
3 measurement inputs :
– potentiometric pH direct
– 4-20 mA isolated (chlorine or bromine)
– 4-20 mA non-insulated (temperature)
1 flow switch input
2 pre-dedicated bottom contact inputs (1 pH and 1 Cl)
2 power relay outputs 230 V for pump supply and regulation
2 dry contact relays :
– for regulation
– or for alarm or timer (relay P3)
The dosing units can be self-powered via the 230 V power outputs when operated in dry contact.
1 bi-directional RS485 output for data transfer to a GTC
Login to mysyclope.com as an option
Public and collective swimming pools are governed by different water treatment standards to be respected…
Standards
The problem of chloramines in the water of public and collective swimming pools is a recurrent subject…
Chloramines
Do you have any questions? Need a diagnosis, recommendations? Need a documentation, an estimate ? The entire SYCLOPE team is at your disposal…