TEREO Touch range – pH and chlorine control of public pools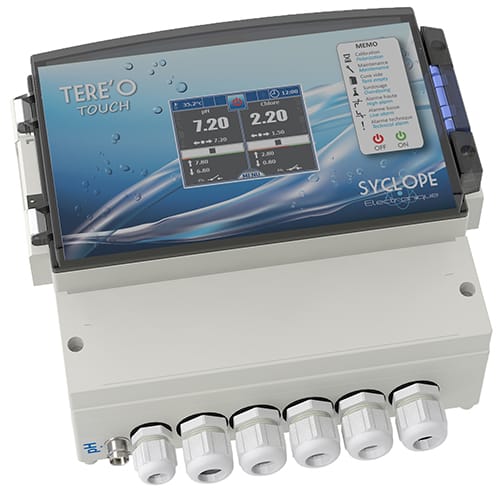 The TEREO range evolves into TEREO Touch for more simplicity and efficiency
TEREO Touch control units measure and regulate the pH and chlorine of public swimming pools (hotels, campsites, spas, thalassos) for an optimat water quality. Their new ergonomic design allow intuitive and simplified handling.
Simplify your life, this is what the new TEREO Touch controller offers
In order to meet your expectations in terms of water quality control in pool, the TEREO range has evolved into the TEREO Touch range. This new pH and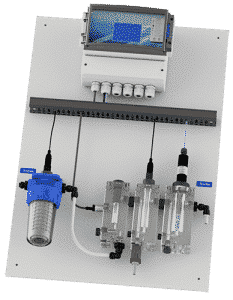 chlorine controller offers to the public swimming pools, hotels, campsites, spas, thalassos (with a special seawater probe), a high reliable measurement system.
The TEREO Touch controls the chlorine or bromine, the pH and also a temperature reading.
How can this new equipment simplify your life ?
Because you need responsiveness ! The TEREO Touch range thanks to its touch screen allows to see at a glance the differente states of the controlled parameters. Simple features to configure like when you use your own smartphone…
It is also possible to make it communicating for remote and realtime monitoring of the water quality of each pools.
How to control the quality of seawater ?
The new TEREO Touch range is equipped with a special seawater probe. This solution makes it possible to control the quality of water in the same way as water treated by chlorine.
The advantages for your use :
The Quality
Touchscreen for a global view of the displayed control parameters
PH, chlorine or bromine control and temperature measurement
Precise and stable measurement of pH and chlorine: no matter the concentration of stabilizer and the total chlorine level
Amperometric measurement sensors suitable for all types of chlorine: gas, liquid, tablets, rollers, salt chlorinator …
Indication of chlorine in mg / l (DPD1 measurement)
Continuous analysis and regulation
Production made in France
Attractive price and low maintenance cost
The Security
Adaptable to all types and volumes of pools from the spa to the public pool
Dosing off or operating when the dosing time is exceeded or depending on the background level of the pH tank and chlorine
Stop injection when high alarms or low alarms are exceeded
Control of dosing pumps, rollers, solenoid valves …
Maintenance indicated on the screen in a clear way and without intervention to be done on the probes
The Communication
The case is equipped with a USB port for updates
Optionally, communication can be integrated for remote monitoring of TEREO Touch controller parameters. Connection possible by Wifi, Ethernet or GSM.
Public swimming pools
Campsites
Technical features

3 measurement inputs:
– direct pH potentiometer
– 4-20 mA isolated chlorine or bromine
– 4-20 mA temperature
1 input to switch
2 pre-dedicated tank bottom contact inputs (1 pH and 1 Cl)
1 bi-directional RS485 port
2 relay outputs of 220 V power for regulation
1 potential free relay for alarm or timer
Power supply: 90-240 VAC 50/60 Hz
2 years warranty excluding consumable