UFPOOL ultrafiltration system for water recycling
The UFPOOL ultrafiltration units, manufactured in France, are used for the recycling of the water used to wash the filters of swimming pools, in conformity with the recommendations of the Ministry of Health (DGS/EA 4 N°273). The UFPOOL range uses an external/internal hollow fiber membrane filtration for the largest possible filtration surface. Thus all small particles, viruses, microorganisms… are destroyed.
The UFPOOL offers production capacities of 20, 40, 60 and 80 m3 per day.
Operation of the UFPOOL ultrafiltration units :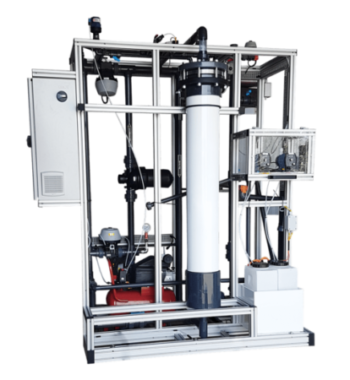 How does the UFPOOL allow the optimization of the operating costs of a pool?
For a swimming pool open to the public, heating and water treatment are two costly and very energy consuming items. It is therefore necessary to find solutions to limit these energy consuming items and to control the costs due to the treatment and the addition of new water.
The UFPOOL ultrafiltration units allow the recycling of the filter washing water to :
Control water losses (heated and treated water) by reusing part of this water and thus reduce energy consumption for reprocessing and reheating "new" water.
To also control the input of new water thanks to the recycling of ultra-filtered water.
Guarantee a low operating cost, 0.11 KW per m3 of treated water, for a quick return on investment.
PLUS FOR YOUR USE
UFPOOL units have many advantages
Regulation of public pools
Public and commercial swimming pools are governed by different water treatment standards to be respected…
Access to the standard
We are here to support you …
Do you have any questions? Need a diagnosis, recommendations? Need a documentation, an estimate ? The SYCLOPE team is at your disposal …