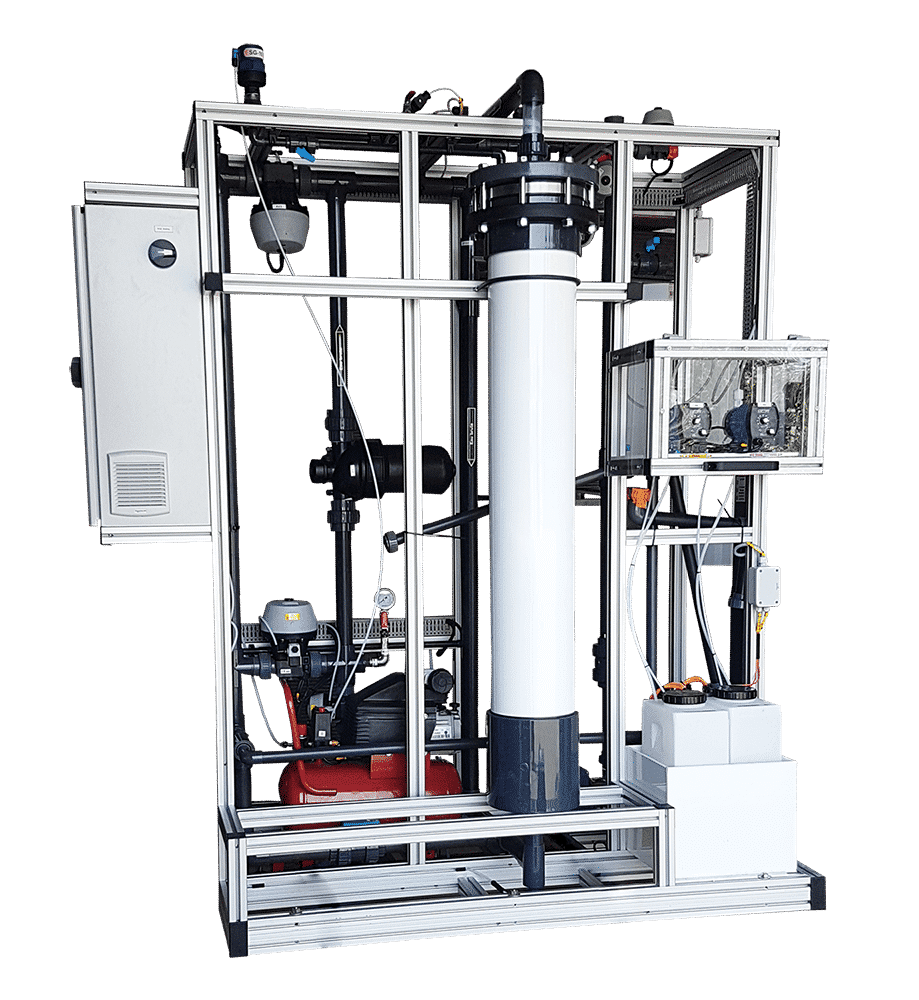 UFPOOL ultrafiltration system for water recycling
UFPOOL ultrafiltration units, manufactured in France, optimize the operating costs of public swimming pools. Indeed, this simple process generates substantial water savings while having a very low operating cost (0.11 KW per m3 of treated water): treatment of the filter wash water, then filtration and storage of this water which can then be used again during the filter wash phases.
SYCLOPE offers a range that can handle daily flows ranging from 20, 40, 60 to 80 m3 per day.
Advantages and technical strengths of UFPOOL :
PRODUCT

SPECIFICATIONS

of UFPOOL units for public pools
Application
Membrane

Type: PVDF double skin hollow fiber membrane with external/internal filtration
Length: 1740 mm
Diameter: 340 mm
Filtering surface:

20 m3/day: 73 m²
40 m3/day: 73 m²
60 m3/day: 146 m²
80 m3/day: 146 m²

Number of module :

20 m3/day: 1 installed online
40 m3/day: 1 installed online
60 m3/day: 2 installed online
80 m3/day: 2 installed online

System
Backwhasing

Type: Reverse flow using treated water and air
Frequency: 20 – 180 minutes
Duration: 30 – 60 seconds
Volume: from 5 to 10 %

General

Maximum pressure: 3,0 bars
Maximum Ptm: 2,5 bars
Temperature: 0 – 35 °C
pH: from 2 to 12

Centifrugal pump

Material: stainless steel 316 L

Tanks

20 m3/day: 800 l
40 m3/day: 800 l
60 m3/day: 1200 l
80 m3/day: 1200 l

Electricity

Power supply: 230-400 VAC – 50 Hz – 3P+T.
Installed power:

20 m3/day: 3 kW
40 m3/day: 3 kW
60 m3/day: 4,5 kW
80 m3/day: 4,5 kW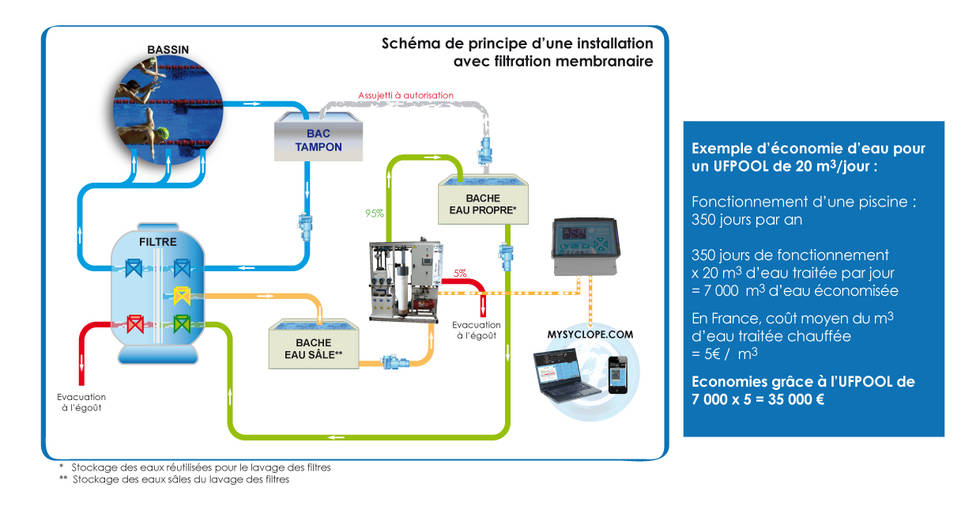 Regulations
Public and collective swimming pools are governed by different water treatment standards to be respected…