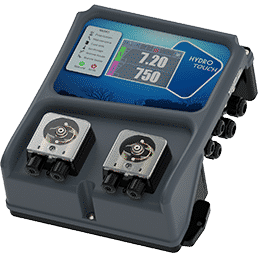 Water quality control of your private pool
Models of the HYDRO Touch range
The HYDRO Touch range, with touch screen, has been developed for a simple and efficient management of your private pool.
Different analysis and regulation equipments will be proposed to you according to your needs for an optimal control of the quality of the water of your pool.
You have several regulators to control the water quality of private pools…
pH : pH control with control and injection of acid/base
ORP : analysis and control of the Redox (ORP) for pool treatment by oxidant (chlorine, disinfectant…)
pH & ORP : analysis and control of pH and ORP

pH & Chlorine : analysis and control of pH and Chlorine (DPD1 measurement)

pH & Chlorine plug: analysis and control of pH and chlorine for the management of an electrolyser
pH+ & pH- : analysis and control of pH+ and pH- for the correction of unstable or variable pH
Tempo : dosing of remanent products without chlorine : active oxygen, hydrogen peroxide
pH and Tempo: pH correction and active oxygen injection
ORP/plug: oxidant analysis and dosing with 240 VAC, 2A power output for direct control of an electrolyzer or an electromagnetic dosing pump
Panel mounted pH & ORP with measuring cell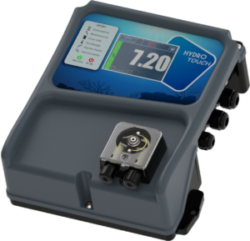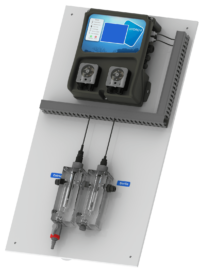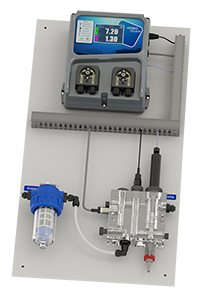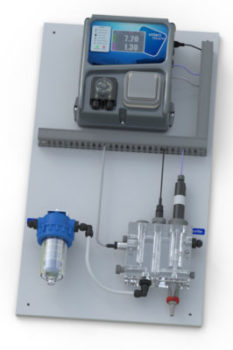 New in 2021: HYDRO Touch pH &Chlorine – pH & Chlorine plug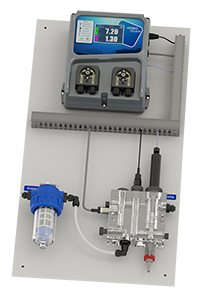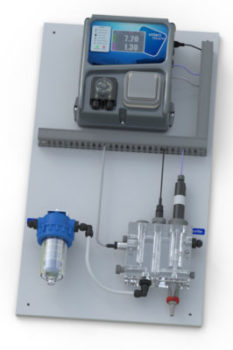 SYCLOPE Electronique has used its know-how to develop the new HYDRO'Touch ph/chlorine and pH/chlorine plug, an equipment mainly dedicated to private swimming pools .
This analysis and regulation device allows to control and manage pH and chlorine in swimming pools. The proposed chlorine probe measures free chlorine and offers a direct reading in mg/l equivalent to the DPD1.
HYDROTouch pH/Chlorine panel
These analysis and control devices allow the control and management of pH and chlorine in swimming pools. The proposed chlorine probe measures free chlorine and offers a direct reading in mg/l equivalent to the DPD1.
Advantages
Free chlorine measurement
Direct reading in mg/l equivalent to DPD1
Pre-assembled and pre-wired panel for easy use and installation
Analytical chamber with integrated low water monitor
Self-diagnosis of injected product quantities with overdose alarm
Adaptable solution from 40 to 80 m3
HYDROTouch pH/Chlorine plug panel
The HYDRO Touch pH/Chlorine plug allows the measurement and control of the pH as well as the management of a chlorinator via an amperometric chlorine measurement. This new functionality ensures the control of a good quality of the water of the swimming pool. These devices have been specially developed to guarantee optimal operation of the electrolysers.
Advantages
The same advantages as the pH/Chlorine panel
+ Adaptation to all electrolysers on the market and all pool volumes
The Plus of this 2 panels
Simplified commissioning
Large touch screen for better viewing
Self-cleaning probe
Easy to use
Low maintenance and few consumables
Quiet, self-priming peristaltic pump to prevent product siphoning
Remote monitoring (optional)
100% French conception and manufacturing
Explosive precursors
The HYDRO Touch range is 100% compatible with the new chemical concentrations
Following the new legislation on the concentration of pH, Sulfuric Acid (max. 15%) and Hydrogen Peroxide (max. 12%) in swimming pools, chemical manufacturers are putting new products on the market to meet this regulation.
For the HYDRO Touch range this does not change anything because our regulators are totally compatible with these new concentrations and guarantee :
Operation not disturbed by new chemical concentrations,

Adaptation to already installed controllers,

Dosing pumps with flow rates up to 2.4 l/h for optimized injection times,

Adjustable dosing times to avoid blockages in the injection of the product,

The guarantee of the same water quality!
The HYDROTouch range offers many advantages and ease of use
The PLUS for your use
Applications
Pumps available
Pumps of 0,4 – 0,8 – 1,6 – 2,4 l/h
Main features
Overdose alarm
1-point calibration possible (pool value)
Self-diagnosis of the electrodes
Adjustable sensor polarization times
Self-check of calibration with warning message
Input/Output
CAD for regulation shutdown without supply shutdown
Low level feedback from chemical tank
Relay on independent timer for injection of e.g. flocculant
Flow controller for measuring chamber
Dry contact output for general alarm
Temperature measurement on double parameter versions
Type of regulation
Proportional on pH or ORP, pH & ORP, ORP tap, pH tap, pH ORP tap ranges
Timer on the Tempo range
Proportional and Timer on the pH/Tempo range
Electrolyser control
ORP socket + pH/ORP socket
Probe placement
Piping or analysis cell option
Associated communications
RS485 as standard
Remote communication via HYDRO'Com (optional)
Power supply
We are here to help you...
Do you have any questions? Need a diagnosis, recommendations? Need a documentation, an estimate ? The entire SYCLOPE team is at your disposal…