Optimal management of one pool
SYCLOPE Electronique widens its range dedicated to public and Olympic swimming pools, water sports stadiums and proposes the ODITouch single pool and multi-parameters.
This new equipment allows to manage several different parameters at the same time in one and the same pool.
Measured parameters:

The ODITouch range allows compliance with the standards and regulations in force for public swimming pools, aquatic centers… and treatment of several parameters at the same time in one and the same pool…
temperature
pH
redox (ORP)
active chlorine – free – total
bromine sea water
ozone
chlorine stabilizer (isocyanuric acid)
The new features of ODITouch
The ODITouch range has been improved to bring more comfort and safety to the users.
1) ODITouch internal calendar for managing the maintenance of the analysis and regulation system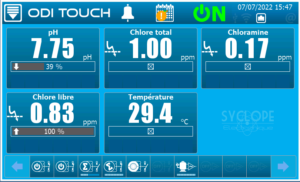 The ODITouch range is now equipped with a calendar on which the user can program maintenance dates such as the replacement of the pH sensor or the change of a membrane on a chlorine probe… but also to visualize, thanks to a history, the maintenances that have been performed and those to come.
2) Remote technical support
In order to provide our customers with the best possible support, our technical department can now take control of the ODITouch remotely. Thus, simply by means of the Wifi connection of the pool network or via a shared connection of a smartphone, it is possible to give remote access to our experts. A valuable aid for optimal use of the device.
3) Assignment of relay outputs to control elements belonging to or external to the pool
With this new feature, the ODITouch becomes a mini BMS that allows you to control the pool light, the cleaning robot, the outdoor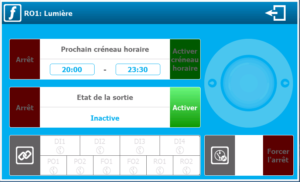 lighting… In fact, the unassigned relay outputs of the device can be used to control elements specific to or external to the pool. This tool is perfectly adapted to camping or hotel pools by proposing other control elements with programming according to time slots or remote controls…
Types of possible functions :
Filtration: control of variable speed pumps
Pool water heating
Lighting: pool or terrace lighting or any other lighting
Pool cleaning robot
Shower: control of access to the showers according to a precise time schedule
Activation of games, slides, fountains…
Others: any other element that can be controlled
PLUS FOR YOUR USE
The ODITouch is an easy to use and efficient equipment
Public and collective swimming pools are governed by different water treatment standards that must be respected…
Standards
The problem of chloramines in the water of public and collective swimming pools is a recurring subject…
Chloramines
We are here to support you …
Do you have any questions? Need a diagnosis, recommendations? Need a documentation, an estimate ? The SYCLOPE team is at your disposal …