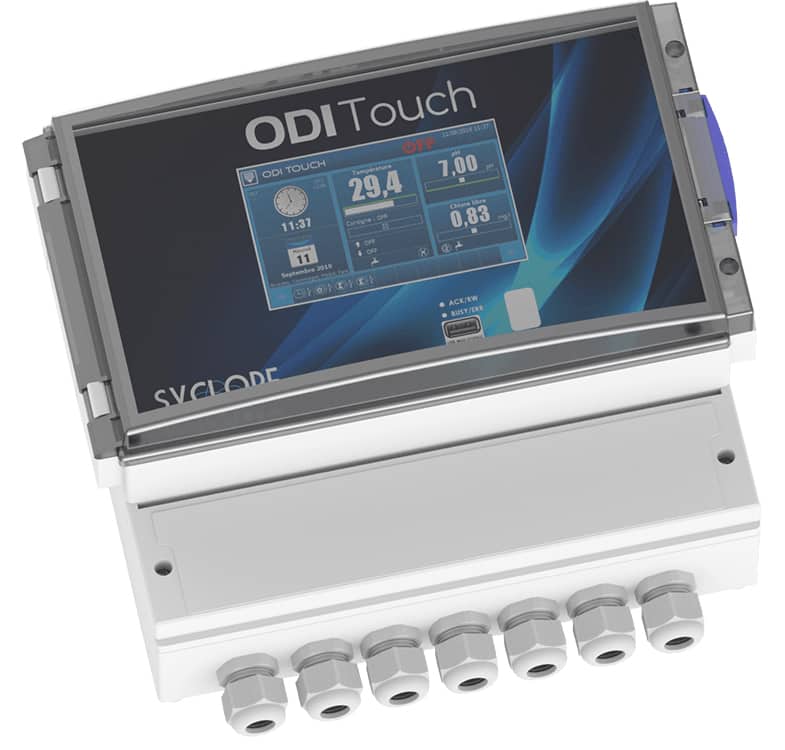 ODITouch : single pool and multi-parameter
SYCLOPE Electronique extends its range dedicated to public and Olympic swimming pools, water sports stadiums and offers the ODITouch single pool and multi-prameter.
This new equipment allows to manage several different parameters at the same time in one and the same pool.
PRODUCT

SPECIFICATIONS

New ODITouch
Applications

Municipal pools
Public swimming pools
Campsites
Hotels
Co-owners
Thalassos
…

Configurations


pH, Free Chlorine
T°C, pH, Free Chlorine
T°C, pH, Redox, Free Chlorine
T°C, pH, Free Chlorine & Total Chlorine
T°C, pH, Redox, Free Chlorine & Total Chlorine

Possible measures

Temperature
pH
Redox
Free – active – total chlorine
Bromine sea water
Ozone
Stabilizer
Turbidity
Conductivity
Flow…

Chemical calculations

Chloramines
Active chlorine
Salinity
…

Inputs

2 potentiometric inputs
2 isolated 4/20 mA inputs (chlorine sensors)
2 non-isolated 4/20 mA inputs (conductivity, turbidity and temperature probes)
4 digital inputs: tank level, CAD, flow rate…
8 timers
1 USB port for saving data, configuration and settings.
upgrades
Up to 8 measured/calculated parameters
Control of all types of actuators :
dosing pumps, solenoid valves, roller storage, UV…

Outputs

6 relay outputs :
– 2 power relays 230V
– 2 floating contact relays (max. 240 pulses/min)
(with this mode of regulation, possibility of feeding the organs
of dosages in 230 V)
– 2 electronic relays (max. 500 pulses/min)
4 analog outputs 0/4-20 mA
1 output 12V
1 RS485 output (Modbus RTU)
Connection to mysyclope.com via Ethernet Modem, WIFI (included) or
GSM for remote access

Power supply

90 – 250 V – 50/60 Hz – 30 W
Regulation
Public and collective swimming pools are governed by different water treatment standards to be respected.