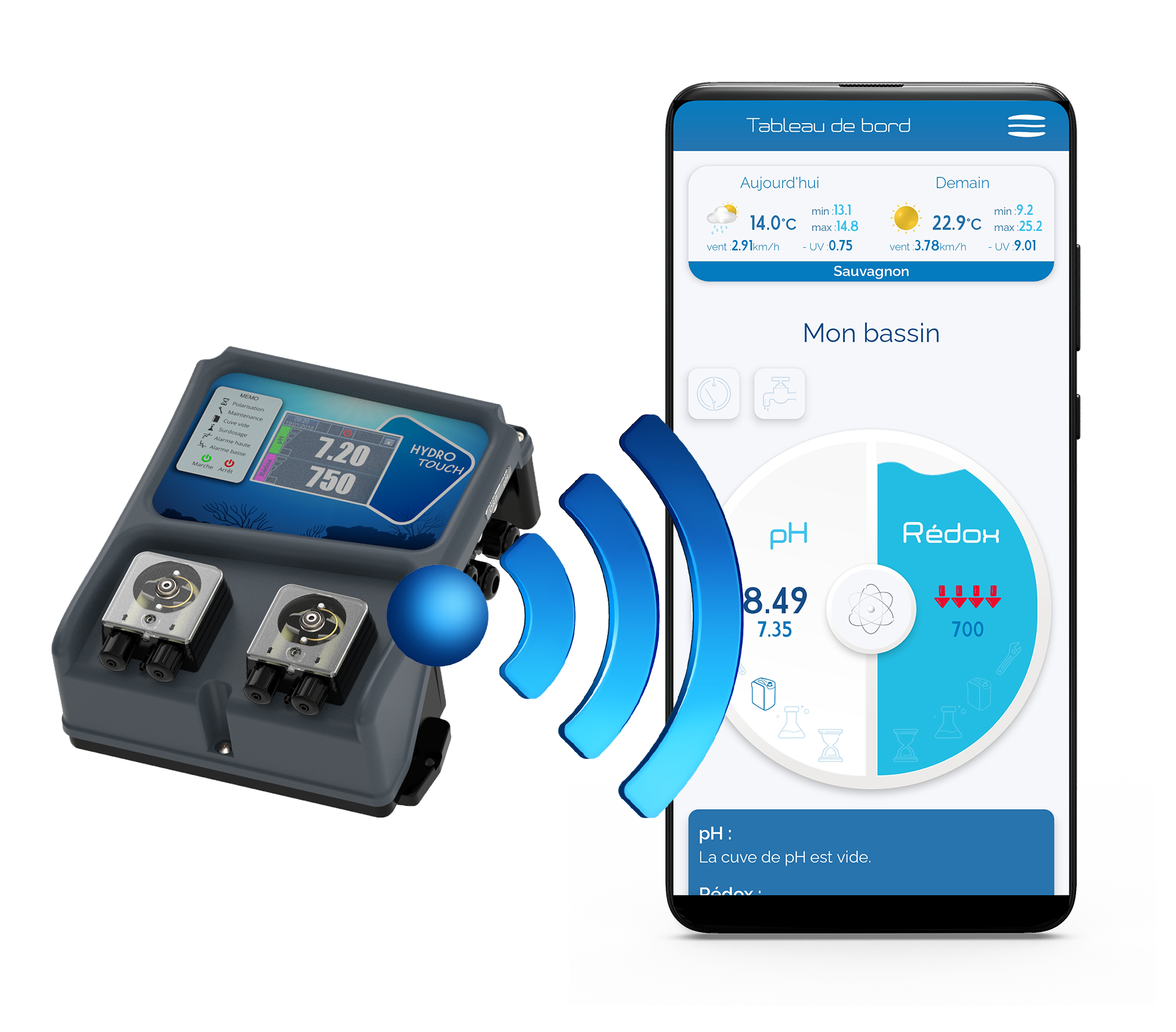 New in 2023
New application to simplify the life of the private pool owner and professionals.
Ask for a quote
New MyHydro Connect application for water quality management of private pools via Smartphone or Tablet
SYCLOPE launches its new MyHydro Connect application for pool water quality management via Smartphone or Tablet. A simple and effective tool to make life easier for private users and professionals.
What is it about?
MyHydro Connect is a free downloadable application, on smartphone or tablet (available on Apple Store and Google Play) allowing to obtain all the information related to the quality of the water of the pool.
How does it work?
It just have to provide you the wifi key MyHydro Key (additional USB key to be added on the controller) to connect your HYDRO Touch to the internet box of the house. Once the device is connected, the MyHydro Connect application will automatically detect the HYDRO Touch and allow you to control the equipment from your phone or tablet.
And if you're not on site, with the MyHydro Connect app you can view all the information about the pool remotely.
In addition, the professional will be able to follow all the pools he has under management and thus program possible interventions.
The application is available in French and English and the interface is customizable.
The connection of the HYDRO Touch device and the MyHydro Connect application is done in a very simple way either directly from the controller via MyHydro Key or from the home network.
The main features
The configuration possibilities via the Smartphone are the same as those on the controller (except for the calibration and priming of the pumps for safety reasons)
The dashboard from the MyHydro Connect App allows to visualize the measured data, the setpoints, the alarms, the information on the level of the product tanks…
The advanced configuration, for professionals, is secured by a password and can be downloaded in pdf.
For remote connection, SYCLOPE will provide specific identifiers
The advantages of the MyHydro Connect app : 
Easy to use
Simple application to download
Weather point
Clear dashboard to see the water quality of the pool
Step-by-step guidance for the configuration of the device
Possibility to download a summary of the device configuration in pdf format
Monitoring for the professional of several sites at the same time
100% French design and manufacture
We are here to support you…
Do you have any questions? Need a diagnosis, recommendations? Need a documentation, an estimate ? The SYCLOPE team is at your disposal …