New in 2021
pH and chlorine control panel with integrated peristaltic pumps
For private pools TOP OF THE RANGE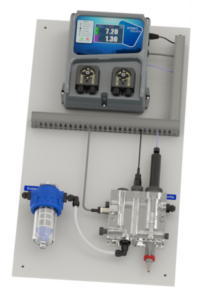 Complete analysis and regulation equipment for the water treatment of private swimming pools:
Automatic analysis, regulation and dosing of the following parameters :
pH alone
Redox (ORP) alone
pH & Redox (2 parameters simultaneously)
pH+ & pH- (positive and negative pH correction)
ORP prise (measurement of an oxidant with a 240 VAC, 2A power supply output for direct control of a control unit: dosing pump, solenoid valve, electrolyser…)
pH & ORP prise
Tempo (active oxygen)
pH & Tempo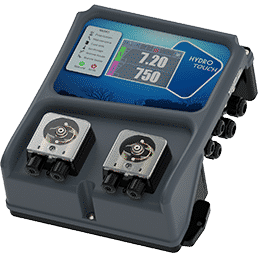 Advantages of the HYDRO'Touch :
A stop of the dosing on alarm overflow
Premium peristaltic pumps of 0.4 l/h, 0.8 l/h, 1.6 l/h and 2.4 l/h with professional accessories (injector and strainer)
An automatic pause of the dosages on tank bottom defect or filtration stop
On the pH-ORP version (optional costing) :

An additional output is available: alarm, dosing… with integrated timer
The ability to add a temperature reading
A flow sensor integrated in the measuring chamber

Remote management via HYDRO'Com by Wifi, GSM or Ethernet (optional)
HYDRO'Touch is your ideal partner in the analysis and regulation of your private pool!
All controllers of the HYDRO'Touch range are guaranteed for 3 years (excluding consumables).
Our after-sales service and our installers are there to advise you and accompany you in your steps.
Download the Diagnostic Help Memo to help you in the handling of your device.
You wish to obtain more information :