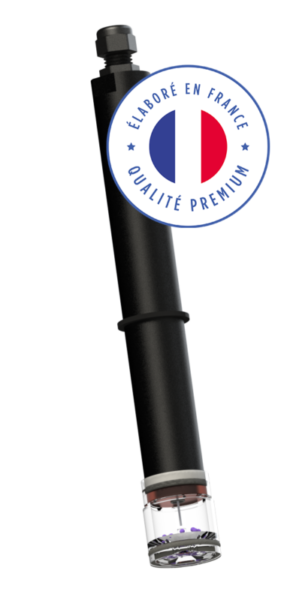 Copper Platinum cell or probe for free chlorine or bromine measurement
Ask for a quote
For which applications should these solutions be used?
Sea water basins,
Thermal waters,
Thalassos,
Private pools,
Any dirty process.
What are the possible measures?
Free chlorine
Bromine sea water
Two measurement solutions
CU/Pt Cell housing
The Copper/Platinum measuring cells developed for a clear and precise analysis of free chlorine or bromine. This cell with integrated copper platinum probe guarantees the reliability of the measurement. This transparent modular measuring cell is to be placed in a spigot (via a sample pipe) after the recirculation pump before filtering with discharge to the sewer.
Other versions are available to measure chlorine or bromine + pH + temperature.
The advantages of the COPPER/PLATIN cells:
Integrated inductive flow sensor with stainless steel ludion
Sample collection on the cell
Flow rate adjustment via needle valve
Integrated measuring transducer to allow a large distance between the measuring cell and the controller
CU/Pt Probe
A copper platinum probe for the measurement of free chlorine. This probe is particularly adapted to high-end private pools and allows the measurement of chlorine generated by salt electrolysis.
The advantages of COPPER/PLATINUM probes:
Probe with non polarized 4-20 mA output
Probe with gain selector
Probe adaptable on all PMMA Syclope cells
Public pool regulations
Public and collective swimming pools are governed by different water treatment standards to be respected…
Go to the standard
We are here to support you …
Do you have any questions? Need a diagnosis, recommendations? Need a documentation, an estimate ? The SYCLOPE team is at your disposal …