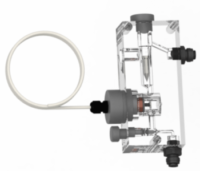 Copper Platinum Probe
Copper Platinum Probe: for the measurement of chlorine or bromine
The Cu/Pt measuring chambers have been specially developed for a clear and precise analysis of chlorine or bromine. The copper platinum probe guarantees reliable measurement.
This transparent modular measuring chamber is to be placed in a tapping (via a sample tube) after the recirculation pump before the filter with discharge to the sewer.
Other versions are available to measure chlorine or bromine + pH + temperature.
For which applications are these probes used?
Sea water basins,
Thermal waters,
Thalassos,
Any dirty process.
Active Chlorine and Active Bromine,
pH,
Temperature.
Advantages of the Copper/Platinum measuring probe
The PLUS for your use
Public and collective swimming pools are governed by different water treatment standards to be respected…
Go to the standard