What is it about?
On-site chlorine production by salt electrolysis
SYCLOPE has completed its pool range with a 
chlorine generator
by salt electrolysis.
As a reminder, a salt electrolyser or in-situ sodium hypochlorite generator converts the salt contained in a brine into chlorine by the physical phenomenon of electrolysis. It is used to disinfect swimming pools with chlorine avoiding any manipulation of dangerous chemicals.
This process differs totally from the electrolysis of salt used in private pools. In private swimming pools, the salt is electrolyzed directly in the pond water, unlike for the collective swimming pool process where the sodium hypochlorite produced is stored in an independent tank and then injected into the pool.
Why use an in-situ chlorine generator?
To avoid the handling and storage of chlorinated chemicals used for water disinfection that endanger the technical agents on site.
Because the supply of chlorine is becoming more and more complex, especially in certain cities where it is now impossible to bring in a truck whose cargo is considered dangerous.
For an economic reason, the cost of the raw material (chlorine) being higher than salt.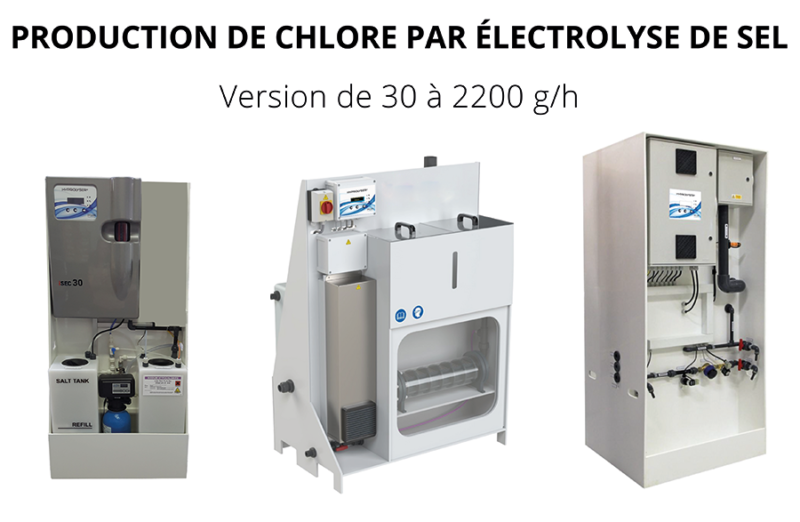 WHAT THE IN-SITU CHLORINE GENERATORS ALLOW: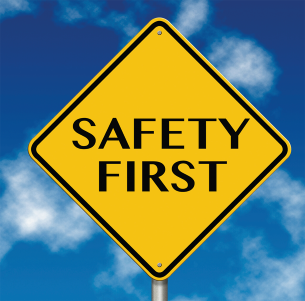 1- SAFETY
Protect technicians and employees on site
Stop the delivery, handling and storage of hazardous chemicals
H2 detector supplied as standard
Guaranteed free of hydrogen and chlorine vapor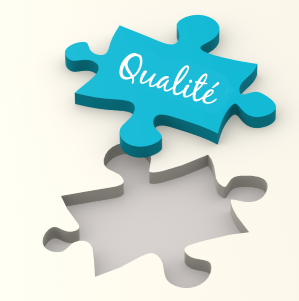 2- QUALITY
Reliable chlorine product thanks to its constant concentration
No clogging of the injection points
Very simple installation and use: "Plug & Play" system
3- RETURN ON INVESTMENT
Low maintenance of the chlorine generator
Cost-effective solution: purchase price of salt less expensive than chlorine
Quick return on investment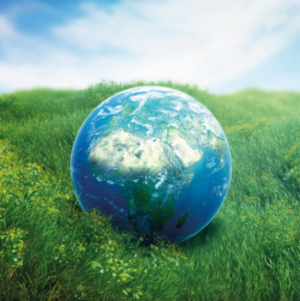 4- ECOLOGY
Less products used
Less delivery
Optimization of supplies
Chlorine generator – Billère swimming pool (64)
The results since the installation – Testimony collected on 15/07/2021

"After 4 years of use of this water treatment system by Electrolysis in our establishment, we now have enough hindsight to confirm that this type of installation has only advantages on a daily basis in terms of efficiency in the treatment of the water of the pools, reduction of operating costs throughout the year and safety comfort for the operators. As I have already mentioned to the many people who have contacted me on this subject over the last 4 years, I can only encourage you to study this type of system for your respective facilities."
1st Testimony of September 28, 2018

Following a reflection started in 2015, our Commune took the step and decided, since June 2017, to equip itself with this new system of water treatment by electrolysis and thus become the first public swimming pool in New Aquitaine equipped with such a device. Among all the reflections, the matrix idea was to think about how to reduce the operating costs of our equipment, while guaranteeing the comfort and safety of our agents and our users and to move towards a much more ecological device.

Following a validation from the ARS, which also encouraged us to try the experiment in view of the low investment cost, the electrolyser appeared to us, to those in charge and to the elected officials, as an obvious solution, even if we had some fears, notably concerning the low rate of public water sports structures equipped with this device and therefore little experience. After two years of operation, my doubts are now over. I can easily list all the advantages of this device since it is in place in my pool:

Division by 3 of the purchase cost of the raw material that is salt compared to chlorine.
Increased safety for machinists who now only handle salt and acid.
Practically no more maintenance and comfort of use of the electrolyser, entirely automated, my agents simply taking care to add salt which allows them to devote themselves to other tasks.
End of the clogging of the injection canes previously linked to the chlorine granules.
Reduction of about 15% of the annual PH consumption.
End of storage of dangerous products and end of transport and delivery of these products. You only store bags of salt.
A positive ARS assessment to date.
And above all, what remains the most important, a very positive feedback from users who rediscover a softer and less "aggressive" water in contact with the skin or eyes.

Here is a list of the advantages of our installation and I can't list any negative aspects for the moment, because to date, I haven't found any. I therefore encourage you, via this testimony, to study this device, especially if you are in a global approach of renovation, cost reduction, improvement of the working conditions of your agents and comfort of the users.
Benjamin PEREIRA, Director of the Municipal Pool of Billère (64) equipped since 2018
Reliability and Efficiency
Testimonial
Chlorine generator of the Thermes des Chênes of Dax (40)

It was during 2019 that Syclope Electronique, with whom we have been working for many years for everything related to pool treatment equipment, presented us with its new device for in situ chlorine production by salt electrolysis.

Until then, the balance of all our pools was ensured by adding liquid chlorine and sulfuric acid. We then started to think about the benefits that such a device could bring us (safety, storage, cost, handling, maintenance), which led us to choose this solution during the renovation of the pools of one of our thermal establishments in the 2019-2020 off-season.

After one year of operation, our first assessment is very positive and even goes beyond our expectations:

First of all, in terms of safety, one of our company's priorities: the use of salt bags makes it possible to avoid the transport of concentrated bleach cans and their storage near sulfuric acid.
The handling of the technical agents is considerably lightened since the salt bags can be stored directly next to the electrolyser, unlike the chlorine cans which require a room dedicated to chemical products equipped with retention tanks.
The maintenance of the chlorine injection circuits (dosing pumps and injection nozzles) has become non-existent, because the liquid chlorine thus generated is much less concentrated than the one sold in cans, but also because it is produced from water directly softened in the device.
Finally, the cost is obviously much lower since a single pallet of 1000 kg of salt bags allowed us to ensure the treatment of two basins of 115 and 53 m3 respectively for one year, replacing several pallets of sodium hypochlorite.

Less product, less deliveries and a much better overall carbon footprint! We can add to all this a perfect continuity in the results of the physico-chemical and bacteriological analyses carried out regularly on our pools. Our experience, for the moment short but very satisfactory, will probably lead us to make the same choice when refurbishing the pools of our other establishments in the future.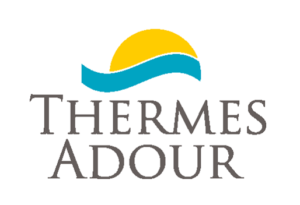 Cyril SENSENACQ, Operations Manager
Reliability and Efficiency
We are here to support you …
Do you have any questions? Need a diagnosis, recommendations? Need a documentation, an estimate ? The SYCLOPE team is at your disposal …