On-site chlorine production
by salt electrolysis
SYCLOPE has completed its pool range with a chlorine generator by salt electrolysis.
As a reminder, a salt electrolyser or in-situ sodium hypochlorite generator converts the salt contained in a brine into chlorine by the physical phenomenon of electrolysis. It is used to disinfect swimming pools with chlorine avoiding any manipulation of dangerous chemicals.
This process differs totally from the electrolysis of salt used in private pools. In private swimming pools, the salt is electrolyzed directly in the pond water, unlike for the collective swimming pool process where the sodium hypochlorite produced is stored in an independent tank and then injected into the pool.
The on-site chlorine generator allows:
Stop delivering or handling hazardous chemicals,
Chlorine generation on site (storage in a buffer tank),
To replace the chlorine stored in the technical rooms by simple bags of salt tablets,
To produce 1 kg of 100% active chlorine with 3 kg of salt, which gives a real financial advantage (salt is much cheaper to buy than the main chlorine compounds on the market).
These on-site chlorine production units are suitable for public swimming pools, aquatic centers, hotels, campsites, spas, sports centers…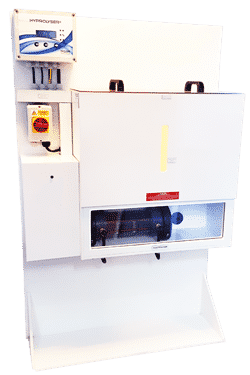 Testimonial
Benjamin PEREIRA, Director of the Municipal Swimming Pool of Billère (64), equipped for 3 years
Following a reflection started in 2015, our Commune has taken the step and decided, since June 2017, to acquire this new system of water treatment by electrolysis and become the first public swimming pool in New Aquitaine with a such device.

Among all the thoughts, the idea was to think about how to reduce the operating costs of our equipment, while ensuring the comfort and safety of our agents and our users and move towards a much more ecological device.

Following a validation of the ARS which also encouraged us to try the experiment given the low cost of investment, the electrolyser appeared to us, to our responsible and elected, as a matter of course even if we had some particular fears concerning the low rate of public nautical structures equipped with this device and therefore little recoil.

After two years of operation, my doubts are now lifted and gone.

I can easily list all the advantages of this device since it is in place in my Pool:

Division by 3 of the cost of buying the raw material that is salt compared to chlorine.
Increased safety for machinists who only handle salt and acid.
Almost more maintenance and comfort of use of the electrolyser, fully automated, my agents simply add salt which allows them to devote themselves to other tasks.
End of clogging of injection canes previously bound to chlorine granules
Approximately 15% reduction in annual PH consumption.
End of the storage of dangerous products and end of the transport and the delivery of these products. You only store bags of salt.
A positive ARS assessment to date
And most importantly, what remains the most important, a very positive feedback from users who rediscover a softer water and less "aggressive" in contact with the skin or eyes.
Here is a list of the advantages of our installation and I can not list any negative aspects for now, because to date, I have not listed any.

I therefore encourage you, through this testimony, to look into the study of this device especially if you are in a global approach of repair, cost reduction, improvement of the working conditions of your agents and comfort of users.

Benjamin PEREIRA

Director of the Municipal Swimming Pool of Billère (64)
You wish to obtain more information :