Drinking water treatment used for aircraft
Automatic drinking water treatment system used for passengers on board
SYCLOPE Electronique has developped a new automatic chlorination unit for water purification for aircraft passenger consumption…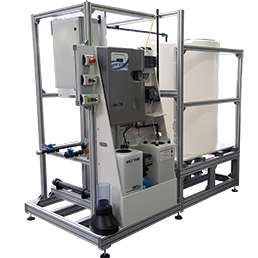 This solution allows to analyze and control continuously the water quality in order to met with airport standards. The chlorine production is done by salt electrolysis and therefore does not induce manipulation or storage of chemical products. The unit is packaged in a complete skid for water regulation and chlorine production on-site.
It is possible to follow the water parameters remotely and obtain a permanent drinking water.
Each unit is sized according to the client needs.
Pau-Pyrénées Airport is equipped with a potabilization unit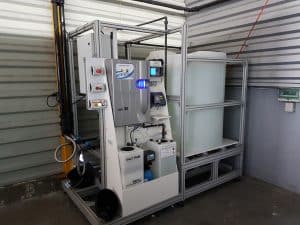 In order to guarantee employee safety and proved optimum water quality for passenger consumption, the PAU-PYRENEES Airport has been equipped for 1 year with the SKI 1000 water treatment unit.