Motor-driven pump
The motor-driven pump allows the length and stroke frequency to be adjusted according to the speed of the pump motor.
VARIO and SIGMA motor pumps are used for dosing chemicals such as disinfectants, flocculants or additives… up to more than 1000 l/h.
They are used for the treatment of drinking water, cooling towers, waste water, industrial processes, swimming pools with electrolysers….
Motor-driven pump – VARIO
The VARIO range ensures a high accuracy of chemical dosing.
Range of flow rates from 8 to 64 l/h with pressures from 10 to 4 bar,
High precision in the dosing process even with fluctuating pressure ratios,
Flexible regulation of the membrane stroke lengths…
Technical features:
Flow range from 8 to 64 l/h
From 10 to 4 bar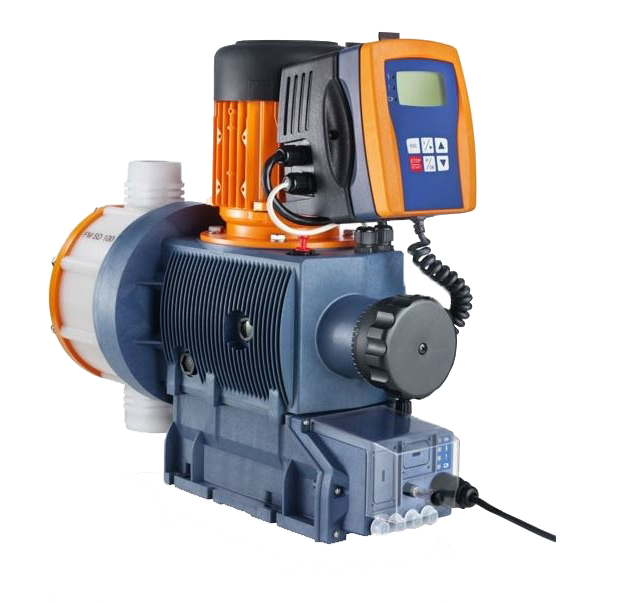 Motor-driven pump – SIGMA
The SIGMA motor-driven dosing pump consists of 2 versions :
– the basic version
– the version with intelligence including a removable control unit (optional control module with 4-20 mA outputs, analog controls, fault outputs and various control variants as standard)
These 2 versions are also divided into 3 categories classified according to their flow ranges:
Sigma/ 1 with a flow rate ranging from 17 to 120 l/h and from 12 to 4 bars
Sigma/ 2 with a flow rate of 50 to 350 l/h and 16 to 4 bars
Sigma/ 3 with a flow rate of 146 to 1030 l/h and 12 to 4 bars
The advantages of SIGMA pumps
The SIGMA range has many advantages such as :
The guarantee of a secure process thanks to a multilayer membrane with visual rupture warning or contact (optional),
An air purge,
Servomotors or servo drives for the adjustment of the motor rotation frequency,
2 standard materials PVDF/PTFE, stainless steel/PTFE …
Technical features:
SIGMA 1 : from 17 to 120 l/h and from 12 to 4 bars
SIGMA 2 : from 50 to 350 l/h and from 16 to 4 bars
SIGMA 3 : from 146 to 1 030 l/h and from 12 to 4 bars
PPE : Polypropylene Head – Polypropylene Valve – EPDM Seal
PPB: Polypropylene Head – Polypropylene Valve – FPM Seal (Viton)
PPT: Polypropylene Head – PVDF Valve – PTFE Seal
NPE : Acrylic Glass Head – PVC Valve – EPDM Seal
NPB: Acrylic Glass Head – PVC Valve – FPM Seal (Viton)
NPT: Acrylic Glass Head – PVDF Valve – PTFE Seal
PVT: PVDF Head – PVDF Valve – PTFE Seal
PCB : PVC head – PVC valve – FPM Seal (Viton)
We are here to support you …
Do you have any questions? Need a diagnosis, recommendations? Need a documentation, an estimate ? The SYCLOPE team is at your disposal …