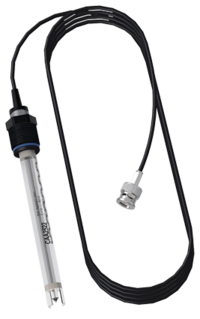 Which pH sensor for pool water analysis?
SYCLOPE offers a wide range of pH sensor for measurement in public or private swimming pools.
The pH probes PUBLIC SWIMMING POOLS
The pH electrodes used in public swimming pools ensure reliable measurement quality and a very good price/performance ratio.
The pH probes PRIVATE SWIMMING POOLS
For private swimming pools, pH electrodes, thanks to their BNC connections, guarantee simple and quick installation. The probes used in private pools are of the same quality as those installed in public pools.
What are the advantages of these pH sensor?
pH Sensors – PUBLIC POOLS
Application

Public swimming pools
Similar water quality

Measure

pH

References

Non-pressure pH electrode: CAA2503 + CAA1503
pH pressure electrode: CAA2504 + CAA1504

Connection &
Connector
pH range
Operating temperature range

0 to 60°C (CAA2503 + CAA1503)
0 to 80°C (CAA2504 + CAA1504)

Pression maximal


0,5 bars (à 60°C) – (CAA2503 + CAA1503)
6 bars (à 80°C) – (CAA2504 + CAA1504)

Material

Translucent lead-free glass (RoHs)

Dimensions

Length 120 mm
Diameter 12mm +/-0.5mm
pH Sensors – PRIVATE SWIMMING POOLS
Application
Measure
References

CAA2524 : 6m cable
CAA1524 : 2m cable

Connection &
Connector

PG13,5
Type BNC with protection

Measure range
Storage temperature
Pression maximal

Material

Translucent lead-free glass (RoHs)

Dimensions

Length 120 mm
Diameter 12mm +/-0.5mm