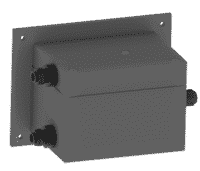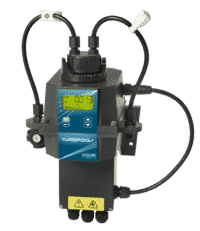 Probes for measuring turbidity
SYCLOPE offers two ranges of turbidity probes.
TUR20XX probes
The probes do the measure by infrared radiation at 90°. The probe provides a 4-20 mA analog signal for long distance connection.
TURBIPOOL probes
The TURBIPOOL turbidimeters type TUC00xx are used to measure turbidity in the control of spring water, process water (reverse osmosis, ultrafiltration…), swimming pool water, liquids in the food industry and in water pollution monitoring. Available in European version (infrared) according to ISO7027 DIN EN27027 or USA (white light) according to EPA 180.1.
What are the advantages of these probes?
Turbidity probes – TUR20xx

Applications
Measurement and accuracy

Turbidity NTU or FNU
FNU = Formazin Nephelometric Units
NTU = Nephelometric Turbidity Units

0,05 NTU
Response time <60s

Measure range

0-2 NTU : TUR2002
0-5 NTU : TUR2005
0-10 NTU : TUR2010
0-20 NTU : TUR2020

Output signal
Loop power supply

12 to 36 VDC isolated
7,5V + (R(load) – 0,02A)
Maximum : 36 VDC

Body material
Dimensions and Weight

PVC black
105 x 125 x 170 mm
1600 gr

Max. operating pressure
Operating temperature
Storage temperature
Relative humidity
Maximum altitude