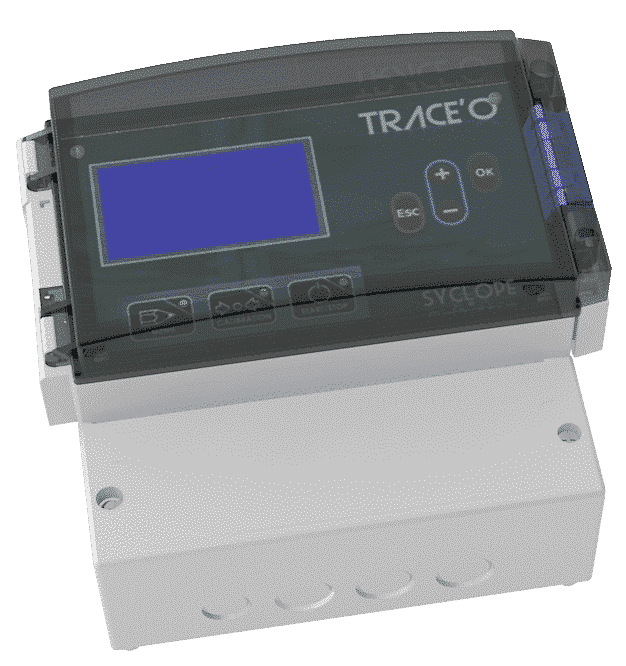 TRACEO for measuring the absence of chlorine or ozone
The TRACEO is an automatic equipment for measuring and regulating traces of oxidant. These devices have a process for monitoring the correct operation of the sensors in the absence of oxidants such as chlorine or ozone.
The applications are various:
Public swimming pools: Control of the destruction of ozone in the water before reintroduction into the pools.
Medical industries: Measurement of the absence of chlorine before hemodialysis systems or any other process with reverse osmosis…
Environment: Control of the absence of chlorine in waste water or any other process...
Advantages and benefits of TRACEO :
PRODUCT

SPECIFICATIONS

Measuring the absence of chlorine or ozone
Applications

Public swimming pools: Control of ozone destruction in water before reintroduction into the basins
Medical industries: Measurement of the absence of chlorine before hemodialysis systems or any other process with reverse osmosis…
Environment: Control of the absence of chlorine in waste water or any other process…

Measured parameters
Inputs

2 configurable inputs 4-20 MA
1 control input (remote control, flow detection or compensation)

Outputs

2 analog outputs 4-20 mA
2 relay outputs with dry contacts programmable as 3-channel or pulse or width modulation commands

Associated communications

Communication protocol: MODBUS RTU (support on RS485)
Website Data: MYSCLOPE.COM, GSM, WIfi or Ethernet connection

Type of control

All-or-nothing (TOR) or threshold regulation
Proportional (P)
Proportional with integral calculation (PI)
Proportional with integral and derivative calculation (PID)
Auto-adaptive

Power supply