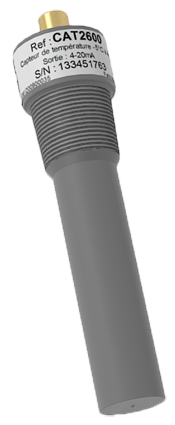 Temperature sensor for measurement in water
For the measurement of water temperature, SYCLOPE offers 2 ranges of sensors:
PVC temperature sensors
These silicon sensor probes are used for difficult and aggressive liquid environments.
Temperature sensors GLASS
The glass body of these probes increases the analytical reactivity in water. Thanks to their BNC connector, they can be connected to analytical instruments quickly and easily.
What are the advantages of these temperature sensors?
Glass temperature sensor
Application

Swimming pools
Industrial process

Measure
Electronic sensor
Temperature range

-5 to 45°C : CAT2905
0 to 100°C : CAT2900

Storage temperature
Maximum pressure
and flow rate

10 bars
Mini : 30 l/h
Maxi : 80 l/h
Recommended : 50 l/h

Start-up time
and final calibration

First calibration after 5 min
After one hour

Response time (T90)
Material and type of protection
Power supply voltage
and output signal
PVC Temperature Sensor
Application

Swimming pools
Industrial process

Measure
Electronic sensor
Measure range

-5 to 45°C : CAT2600, CAT2602
& CAT2700

Température de stockage

-20 to 60°C for PVC sensor

Maximum pressure
and flow rate

8 bars
Mini : 20 l/h
Maxi : 80 l/h
Recommended : 30 l/h

Start-up time
and final calibration

First calibration after 5 min
After one hour

Response time (T90)
Material and type of protection
Power supply voltage
and output signal