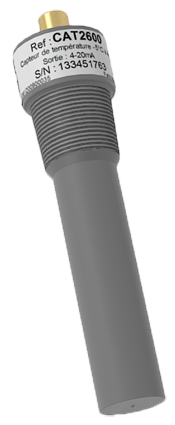 Temperature sensors :
CAT2600, CAT2602 and CAT2700 – PVC
CAT2800, CAT2801 and CAT2802 – Stainless steel 316
CATxxxx are electronic silicon sensors. These sensors fit perfectly with difficult or aggressive liquid environments. No "thermowell" is required. Equiped with an internal electronic, the sensors transmit the temperature value in the selected range by 4-20 mA unpolarized connection.
Advantages:
Continuous accurate and reliable analysis
Fast execution
Aggressive chemical treatment
Measure
Electronic sensor
Measurement range

-5 to 45°C : CAT2600, CAT2602 and CAT2700
0 to 80°C : CAT2801

Storage temperature

-20 to 60°C for PVC sensors
-20 to 120°C for stainless steel sensors

Maximum pressure and
supply flow

8 bars
Mini: 20 l/h
Maxi: 80 l/h
Recommanded: 30 l/h

Starting time and
definitive calibration

First calibration after 5 mn
After 1 h

Response time (T90)
Material and
protection type
Supply voltage and
output signal