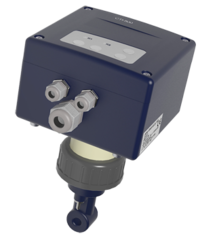 Inductive and graphite conductivity probes
SYCLOPE offers two ranges of probes :
INDUCTIVE Conductivity probes
These probes are used to measure and control conductivity in water containing organic matter. I.e. water containing thick deposits of dirt, oil, plaster, lime…
GRAPHITE Conductivity probes
These graphite probes are used for low mineral content water, the measuring electrodes being in direct contact with the water. They have an integrated temperature probe allowing the sending of a signal compensated according to the temperature of the water.
What are the advantages of these probes?
INDUCTIVE sensors – CAA265x

Applications

Fresh and waste water, air conditioning systems and monitoring of cooling towers (desalination control), rinsing baths (e.g. monitoring of electroplating baths), inlet and outlet controls in internal settling plants, bottle cleaning plants, CIP cleaning, concentration monitoring, car washing plants, etc.

Measure
Measure range

0,5 mS to 1000 mS for 4-20 mA
0 to 5 mS/cm -> CAA2653
0 to 10 mS/cm -> CAA2652
0 to 20 mS/cm -> CAA2654
0 to 50 mS/cm -> CAA2655
0 to 100 mS/cm -> CAA2651
0 to 2000 mS/cm -> CAA2650

Temperature compensation
Compensation range
Temperature coefficient
Temperature

Application: -5 to 50 °C
Storage: -5 to 75 °C
Measuring medium: 0 to 100 C

Maximum input pressure

10 bars to 20 °C
6 bars to 60 °C

Protection and material

IP67
Case: Polycarbonate
Probe: Polypropylene

Output signal and power supply

4-20 mA isolated
19 to 31 VDC
GRAPHITE probes – CAA2690 and CAA2790

Applications

Air cooling towers
Drinking water
Brackish water
Swimming pools
Sea water
Salinity measurement
…

Measure

Conductivity in mS/cm
Salinity in mg/L
TDS in ppm

Measure range
Type of compensation in T°C

Programmable Internal
0.00 – 10.00 % / °C
Correction curve (10 points)

Nature of the electrodes
Material, dimensions
and weight

Head: PMMA
Body: Black PVC
Length 200 mm – Diameter 25 mm
120 grs

Pression maximum
Temperature of use

0 to 50 °C (CAA2690)
0 to 80°C (CAA2790)

Output signal and power supply

4-20 mA isolated
12 to 36 VDC isolated
Technical manuals – Graphite Conductivity Probes
Programming software
CD key: ADDA-FBAC-FIBB-IABB
(to indicate at the installation)